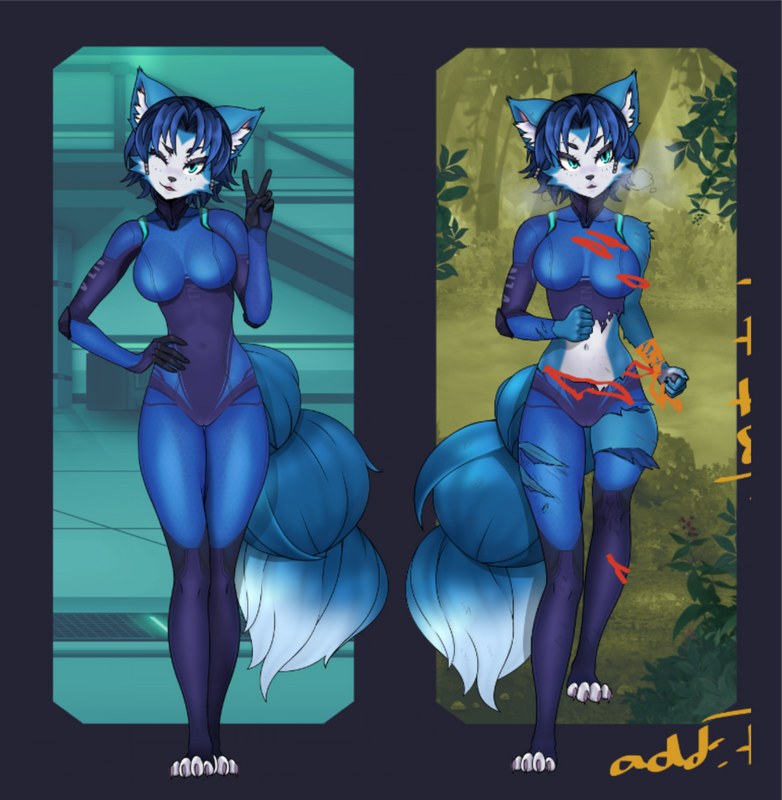 Krys will be sent to a jungle planet in pursuit of an escaped criminal, a female lust demon. Shit happens with her ship and she barely manages to land in a rain forest near the last location of her target…: a village of strange lizard/dinosaur-like people. Krys learns the lust demon instigated some chaos before moving forward to a location of special religious significance to the natives. Krys is prevented from pursuing the lust demon unless she proves her worth and helps the clan going back on their feet.
–
Developer: The Tribe – Patreon | Discord | Twitter | Trello | Subscribestar | Website
Censorship: No
OS: Windows, Mac, Linux
Language: English
Genre: 2D Game, 2DCG, Adventure, Animated, Female Protagonist, Furry, Handjob, Monster, Oral Sex, Prostitution, Rape, Sci-fi, Side-scroller, Spanking, Titfuck, Vaginal Sex
Installation:
1. Extract and run.
v1.0.1
+ Added ESC text to looting and sleeping menu
+ Character unlock indicates if the character is a companion
+ Added Item tooltip to companion equipment overview in Companion Manager menu
+ Added Item Category filtering to the item log
+ Added Item Outline depending on the category, and category icon
+ Added Item Background tint depending on the armor type if the item is an equippable item
+ Added Raw Variation for cookable items
+ Replaced Raw Eggs with a Bird Egg
+ Added toggle to dialogue to determine if dialogue should be animated or not
+ Added delay to end of speech
+ Added delay to commas, periods, hyphens, and ellipsis
+ Added coming soon text to memories save selection
+ Added Appius and life-cycle to be briefly in three different levels in a day
~ Adjusted game speed
~ Adjusted stamina
~ Adjusted hunger
~ Changed how the dialogue determines custom character entries
~ Fixed item tooltip saying 'Cooked Bonuses' if no cooked bonuses were available
~ Fixed issue where dialogue would cancel twice and pause the game occassionally
~ Fixed exiting to menu and loading save doesn't unload your game and reload to the new one.
~ Updated Conversation Log data
~ Fixed issue where intro conversation didn't appear in log properly ~ Fixed typo in Planet Map faction, missing r in Urzukai
~ Fixed Torcs and Respect being flipped in the Merchant UI
~ Fixed deformity in Razorclaw Village west around the Female Communal Tent
~ Changed cooking input to left click to flip and right click to take
~ Changed cooking instructions to display at start
~ Fixed post processing flickering occasionally
~ Fixed Character Leveling title typo tooltip in game guide
~ Fixed starting off with 5 attribute points by default for main character
~ Fixed being unable to crouch if in forced sprint mode
~ Fixed saturation/post processing not applying in dialogue and cooking
~ Fixed locked companions from spawning then despawning
~ Fixed Add to Party button not updating companion manager
~ Fixed party status in the in-game UI
~ Fixed the game from randomly taking over movement when using hold to move functionality
~ Fixed Merchant and Looting menus from displaying undiscovered items
~ Fixed emotes not being applied on load
~ Fixed being able to trade on undiscovered characters
~ Fixed notifications from stopping when in a menu
~ Quest Entry in Log menu displays 'Complete' if complete
~ Fixed visual glitches on Cooking Rock ~ Fixed character tooltip saying 'Disocver this Item'…
~ Fixed Item Entry in Log menu displaying items discovered on day 0, time 0:0
~ Fixed public build from accessing console
~ Fixed Keakrix ~ Fixed skin coloring issues
~ Fixed Meiri's bed from being locked while you're in the level, following the intro sequence
~ Fixed sleeping moans still playing after loading a new save.
~ Fixed Authentication Manager attempting to delete file from windows temp path.
~ Fixed Sleep moans from replaying after getting up