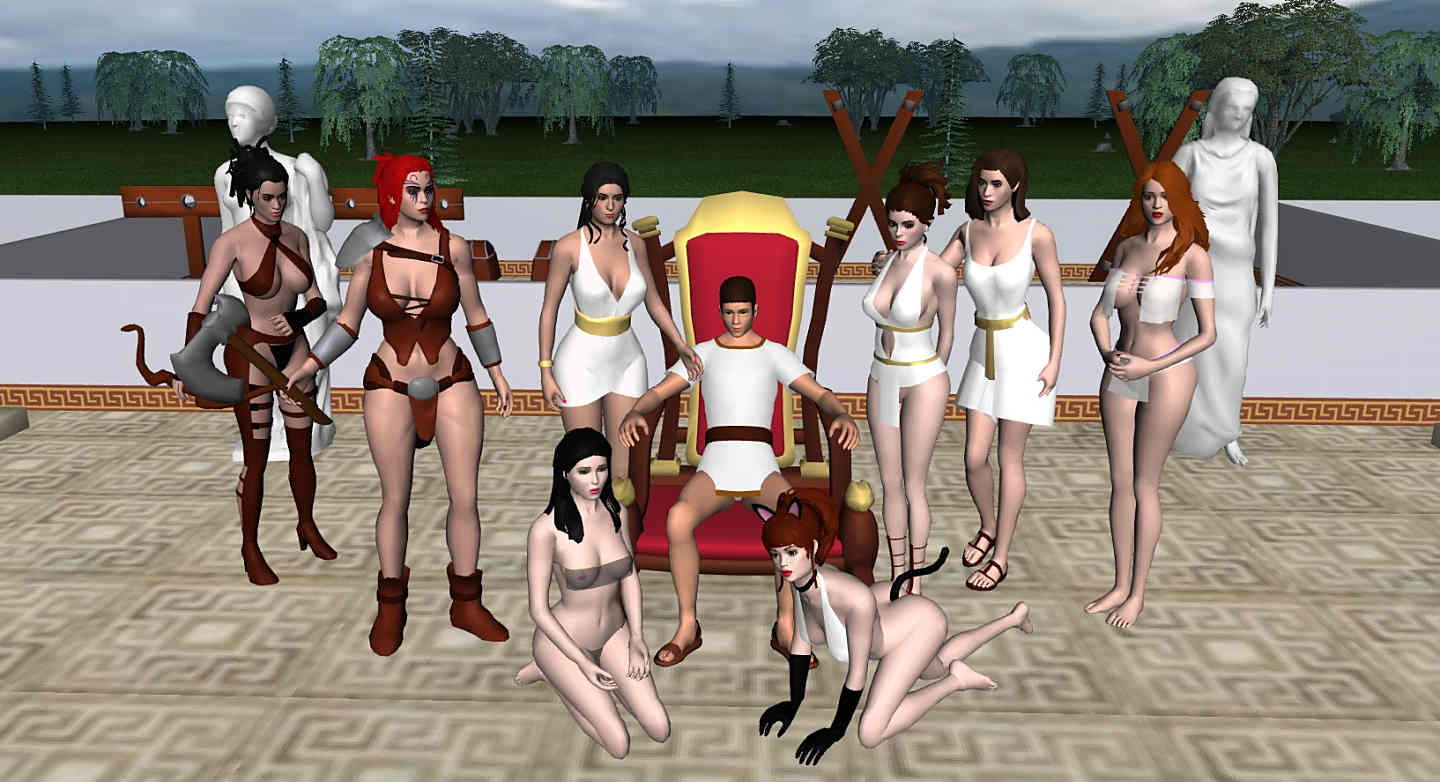 Ludus Master is an adult, management style game, situated in an ancient Rome times. You play as a young guy who must return from military service after his father's death to take over family business. However, you find his life's work – a Ludus school, in ruins and you must start over.
Your task is to acquire a servant, asses her abilities and talents and decide an appropriate type of training for her. Then you have to oversee the training, design daily routine for her or give her special tasks. Different types of servants give you unique option – some can cook, some can gather resources, work with customers or even fight like gladiators.
Your villa, where most of your work will take place is in disrepair. Buy new furniture, equipment and decorations. Organize lavish feasts or orgies to acquire prestige. Raise in social rank to get new options, special work opportunities or quests. Feed all members of your household. Better quality food will grant various bonuses, while starving servants can run away. Cooking raw food is cheaper than buying finished food, but it takes time. Go fishing for alternative food income or buy a land and farm it or raise farm animals.
The game is full 3D. You control your character in a 3rd person view and you can rotate/zoom your camera, even during sex scenes. Scenes are controllable – select position, pace, view or even manually control your character during the scene.​
-|
Developer: Mike Velesk – Patreon | Website | Wiki
Censored: No
OS: Windows
Language: English
Genre: 3D Game, Historical, Male Protagonist, Animated, MILF, Virgin, BDSM, Corruption, Cosplay, Group Sex, Exhibitionism, Combat, Handjob, Oral sex, Vaginal Sex, Internal View, Trainer
Installation:
Extract and run.
v1.2
Pregnancy added for Cornelia, Aemilia and all servants. Each vag scene will increase their pregnancy by 20% up to a maximum of 100%. At full pregnancy, you can select "Delivery" option under "Management" to reset back to 0. Pregnancy has only visual effect, it has no impact on the game play. You can disable pregnancy in the launcher.
Aemilia has more scenes. You can now send her to the city (after wedding). She will visit various locations and do things there depending on her attributes. Locations she can visit are performer's street, slums and her mother's villa. You can meet here at each location and initiate different scenes. You will also get a short notification, where she is so you don't have to look for her all around the city.
Before finishing training, you can now start a personal presentation to the buyer. This way, you can demonstrate different skills of the servant and if she do good, you will get a bonus monetary reward. The option to fast sell, without presentation is still there. Personal presentation is a bonus for level 2 Patreon supporters and it requires a level 2 premium code.