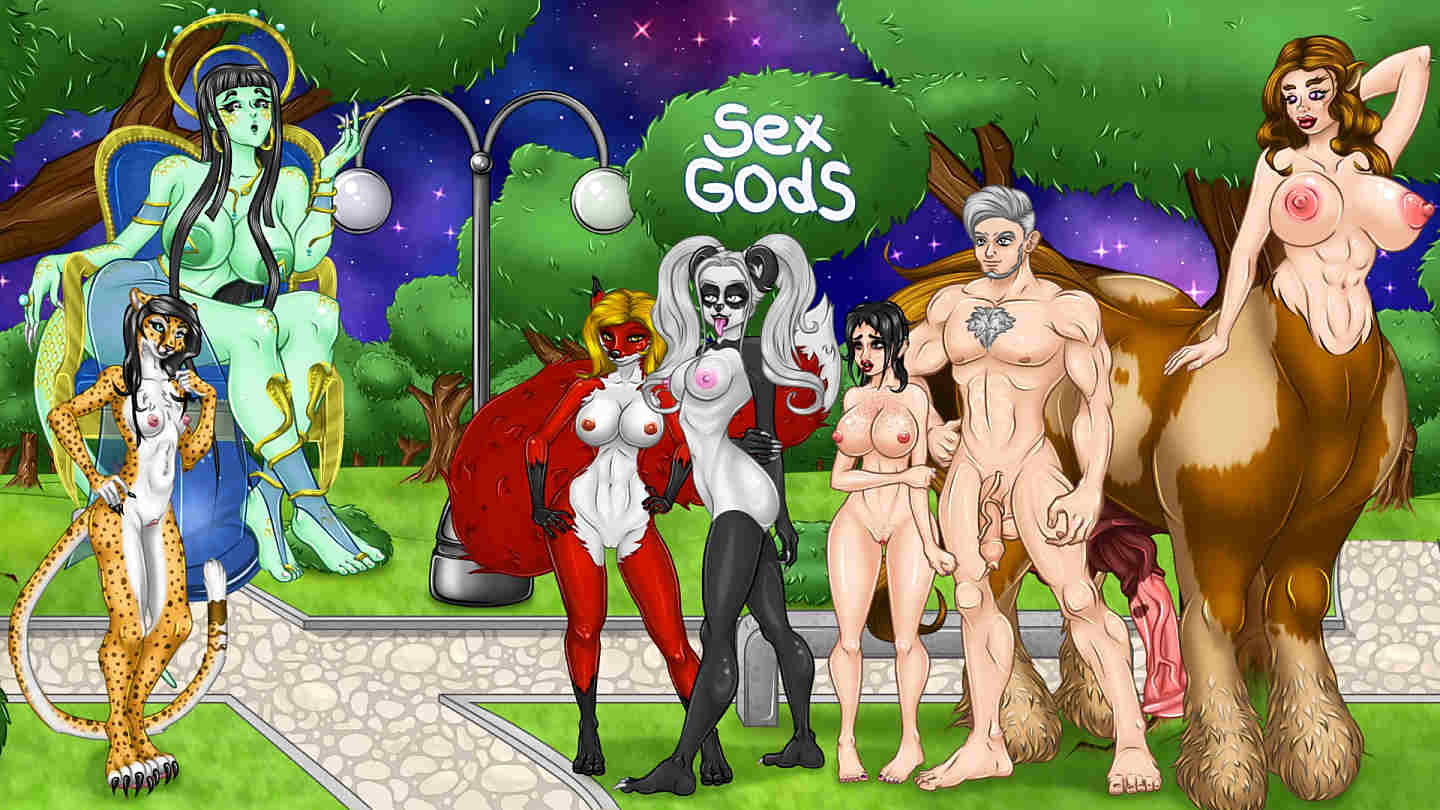 Sex Gods tell you Rex's story, a guy who leads an everyday life in the company of his beautiful and beloved girlfriend, until one day, by destiny… gods, monsters, magic, and a lot of sex come into his life, now he will have to fight and fuck the whole world if he wants to become a Sex God!
—
Developer: GuapoMan – Subscribestar | Discord | Itch.io | Twitter
Censored: No
OS: Windows, Android, Linux, Mac
Language: English, Spanish, French
Genre: Ahegao, Anal, Bimbofication, Cheating, Corruption, Cum inflation, Deepthroat, Furry, Futanari, Gender swapping, Gloryhole, Group sex, Incest, Internal view, Interracial, Lesbian, Male protagonist, Mind Control, Multiple penetrations, Nipple fucking, NTR, Scat, Smegma, Stomach bulge, Transformation, Urination
Installation:
For windows, extract the RAR file and open the file '.exe.'
For Android, copy the '.apk' file to your Android phone and install it.
v0.31
New NPC – Bartender guy. He will appear at the nightclub when Anastasia isn't at the nightclub.
New interaction scene (not sexual), where the main story continues, where Anastasia and Mavi will be involved. This scene is played if you sleep in Rex's bed, unlocked after having the date with Anastasia.
A new short sex scene between Mavi and Heinrich, this sex scene is related to the main story: drawings. This scene is played If you sleep in Rex's bed after playing the scene of point three.
New interaction scene (not sexual focus), where the main story will advance more; this starts by talking with Cloy and using a new option in her menu: Cloy's request. This option will be unlocked after playing the scene of point four.
A new option in Cloy's menu; will be used to change her outfit after playing the scene of point five.
A new Cloy's outfit. Unlocked after playing the scene of point five.
Improved version of Rex's smartphone.
Dialogue updates from the beginning of the game until Rex gets the key to the monster world:

English translation spell check (many changes).
Change of location of the comment window in some dialogues.
Animation for Rex's face (HD face and full model).

New methods to update facial expressions animations:

Female Rex now has the same animations as male Rex.
Rex (both genders, full model), the one you can move, and Anastasia (HD face and full model) now have a smooth change of facial expressions animations. Before this, he changed facial expressions instantly.

Updated the use of parentheses ( ) and square brackets [ ] for all dialogues:

The parentheses show that the NPC only thinks about what the dialogue says; they don't speak those dialogues.
The Square brackets translate what a monster or an animal is trying to say, also used to tell the player what an NPC is doing, like: [listening], [whispering], and to show additional info in a dialogue, like abbreviations, and sexual energy.

Update for the word 'monster' in all dialogues. When Rex, Cloy, Rin, and Xina are talking about a monster, they will use the word 'ally.' Since those NPC aren't monsters to them (at least once they realize it in the game story), now the word 'monster' is used for NPC who don't know about their existence or when someone is trying to be rude.
Fixed bugs
A new bug related to animations using triggers; for no reason, this version had problems activating the flip effect for Anastasia, Rin, Lumière, Rex, and human Cloy. I made a new method to flip the characters and fix this weird problem and changed all animations of those characters (only for the model you can see in the world where you can walk using Rex).