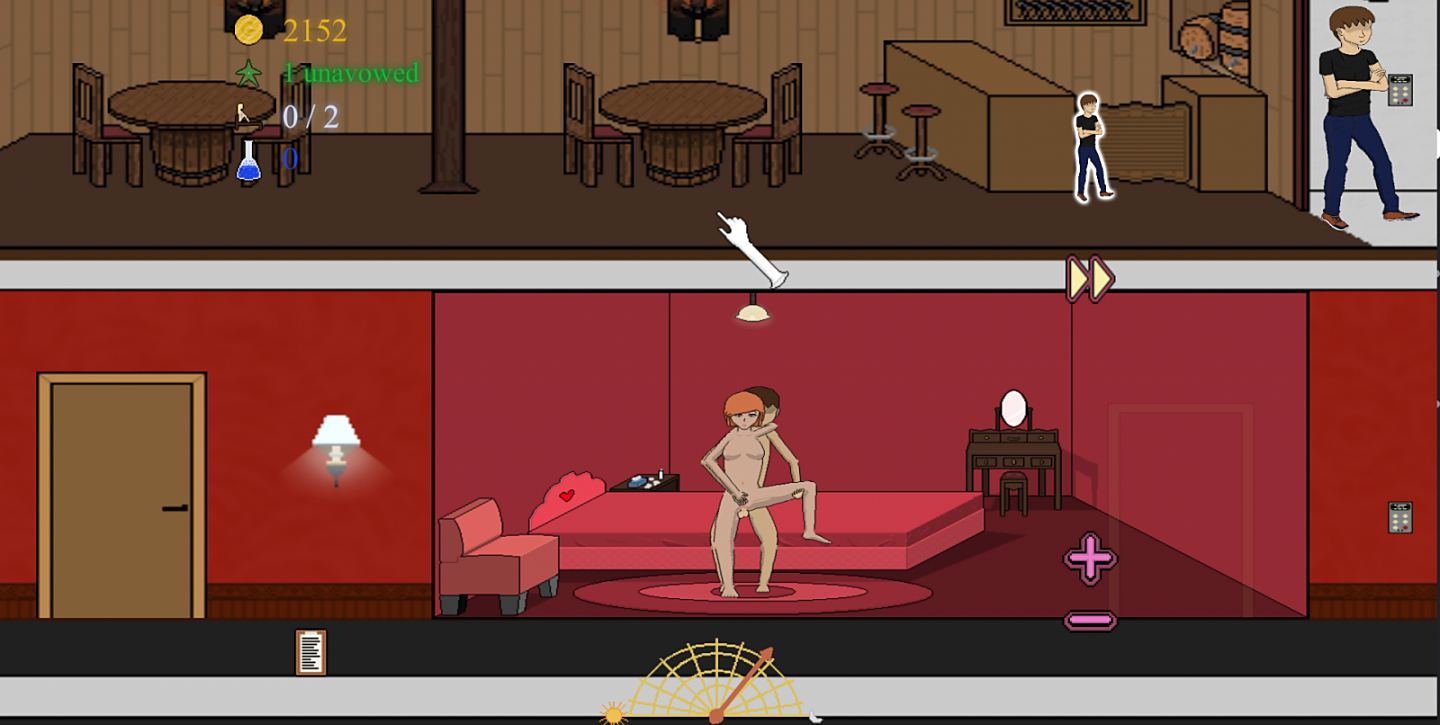 Assign your girls to a work room and swap them around if necessary. Does your girl meet your costumers likes? If so, what are you waiting for? Show him her room! You've got a lot to do. Observe your girls, if they are doing their job well. The happier a client, the more coins he will leave for you to improve your brothel. Furthermore his word-of-mouth is required to allure more of his kind.
–
Developer: Randomcrow – Patreon | Blogspot
Censorship: No
OS: Windows
Language: English
Genre: 2D game, Male protagonist, Simulator, Brothel, Vaginal sex, Oral sex, Group sex, Anal sex, Prostitution, Animated, Titfuck
Installation:
1- Extract to desired location.
2- Click on "executable_name.exe" to start playing.
v4.1
Updates:
the player can work towards a global in-game goal (you can find it under 'options'). Reaching this goal concludes the story about zum Damenhausand a special CG will show up after a certain dialogue. The global goals are:

reach reputation "9 world famous" and complete Amanda's personal quest
unlock all locations
unlock all floors
own at least 15 slaves / monster girls

added a new animation, CG and dialogue related to Madeline (you need every location unlocked to activate her dialogue)
added a button that cleans it's room for free when the day hasn't been started yet (meaning you can have your kobold only brothels again, yay!)
new options for the techtree: Potions; use them for

gaining coins
increasing a girls happines by 50%
spawning a client immidietly
adding +5 to a girls skill of your choice
rerolling a slaves likes/dislikes
Changes:
reduced cost of livingfor each girl: 25 -> 20
reduced the costs needed for the quests "Shopping" and "Errands": 500 -> 350
reduced cost of the following mansion rooms:

kennel maintenance: 40 -> 20
bathroom price: 2000 -> 1000 and maintenance: 40 -> 20
gym price: 2500 -> 2000 and maintenance: 50 -> 40

the upgrade "tolerant clients" was decreased in price: 4 -> 3 flasks
the upgrade "greased gears" was decreased in price by 50%. This includes the follow up (2 -> 1 / 4 -> 2)
Bugfixes:
clients aren't stuck in the elevator anymore
slaves, that are maids, couldn't get asssinged to any other empty room in the brotel
if you built a room on the same level where a maid is already assigned to the broom closet, then the maid ignored that room (maid-doesn't-clean-rooms-bug)
the picture frames in the bar (3,4,5,6) that hold the CG's said something different than what they are actually included when clicking it while the player didn't have enough reputation
fixed two issues with a green frame around the broom closet when assigning slaves
small stuff, that I am not mentioning in detail (like text errors)